Hello my lovelies,
most of you were probably hoping for entertainment but I count some dear fellow creators among my readership and this article is for them. For us creators who need to reach our audience to make a living. I hope it is helpful.
Leave questions and share your own tips in the comments down below!
Leaving Twitter
It is hard. For many of us the end of an era. For me, the Twitter I enjoyed being a part of when I launched my Erotic Mythology account in 2018 does no longer exist. This may not be the case for everyone, but even if you are still having fun on Twitter like you used to, not building your audience on another platform is naive at this point. With a skeleton crew and Twitter not paying its bills, the upsurge in hate speech and misinformation, any or all of this will render the platform unusable eventually. No matter what you may personally think of the billionaire running it, the only sensible course of action is not to rely on one platform exclusively. If OnlyFans, a site synonymous with pornography, can announce they are banning pornographic content, the rug can be pulled out from under you on any other platform too, especially if you are an adult content creator. It happened to me too when my old blog was deleted because Overblog decided they would no longer allow mature content. This has happened on so many platforms in the past that it deserves its own article. So it's safe to say that the best option is to self-host your stuff. But not everyone can afford that and even with your own website you still need a way to get the word out.
But Where To Go?
Obviously this is a guide for Mastodon, so this is my number one recommendation, but if you, for whatever reason, absolutely don't want to be on Mastodon or any of its interconnected platforms, here is a short overview of the other platforms available at present:
BlueSky
I think the majority of my old Twitter friends has flocked to BlueSky but not many are active. In essence, BlueSky is like a beta version of Twitter. There are not many features at the time to the point it renders the site borderline unusable for creators. There are "quoted tweets" but no hashtags, no DMs, and no scheduled posts. Without the recently added list feature I had constantly been missing posts my friends made, something that doesn't happen to me on Mastodon because I get notified whenever they post.
The lack of features will most likely be fixed over time. My main gripe with BlueSky is that yes, it allows NSFW content for now. But we have all seen it play out before: once advertisers come in, adult content is out. Even on Twitter explicit content got you shadowbanned. So I'm wary. I fear BlueSky will use sexy creations to grow and once it has reached a critical mass, kick the NSFW creators to the curb. If BlueSky keeps the promise of decentralisation, it will face the same problems people have with Mastodon being complicated because decentralisation is what makes it complicated. I am on BlueSky because a friend invited me and because I want to keep in touch with old Twitter friends. But I personally prefer Mastodon.
Facebook, Instagram, and Threads
Problematic as fuck. Threads couldn't even launch in the EU because it was breaking data privacy laws. Also notoriously anti-NSFW which is why I never considered them as a platform for myself. I hear Instagram is good for visual artists but it has a punishing algorithm. Some of my author friends are doing well on Facebook and especially if your business is local, it is hard to find a replacement. Beware of Threads, though: not only did this come to market about as half-baked as BlueSky did, it's impossible to delete the Threads account without deleting your Instagram account too! This was supposedly fixed with an update on 14 November 2023 but it doesn't seem to work for all users yet.
Just like BlueSky, Threads doesn't have DMs, hashtags, or even a chronological timeline. Instagram is probably worth a look, especially if you're a visual artist creating SFW art, but the data privacy issues remain. I wouldn't recommend Threads at all because your followers may never even see your posts.
Tumblr
Tumblr seemed to me like the next best place because it had announced early on that it was planning to implement the open protocol that would have allowed Mastodon users to follow Tumblr blogs and vice versa. But it looks like it won't happen and what's worse, most staff has been removed from Tumblr altogether. So it remains to be seen how long the website will even exist. The other major downside to Tumblr is that it doesn't allow all forms of adult content but as Stjepan Sejic shows with his BDSM comic Sunstone, censoring can also incentivise followers to check out the uncensored image on your own site, your Patreon etc.
I love Tumblr for its large mythology-loving community and unique, quirky user culture. But as the ban of adult content showed, Tumblr is not a friendly place for NSFW artists and just like with Twitter, the rules can change overnight. So let's give the elephant site a closer look:
Joining Mastodon
The one thing you have probably heard about joining Mastodon is that it's ugh so hard!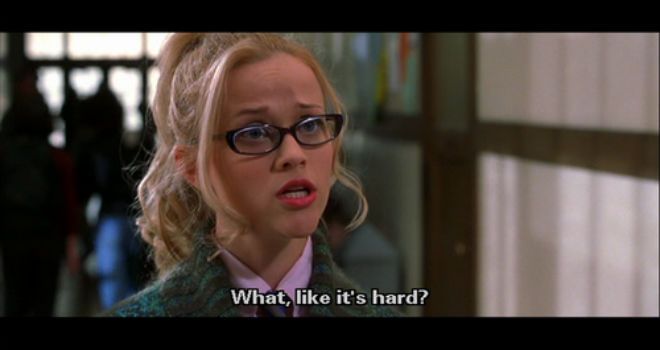 In reality, choosing a server to join out of many is indeed not as straight-forward as having just one option. For me, the challenge was that I didn't really know what would be important to me. So I joined the flagship server, mastodon.social. In the meantime, I have made experiences with different servers and I can say that joining a large one feels the most like Twitter if that is what you are looking for. Joining a larger server is also recommendable for reach but more on that below. As a creator, consider these servers:
Visual Art
mastodon.art: For creators of artwork of all types, including but not limited to illustration, design, 3D modelling, gamedev, photography, songwriting, composing, creative writing, performance art, poetry, ceramics, typography, sculpture, fibre arts, and more, >6.8K active users. AI generated art and NFTs are not allowed.
socel.net: Animation professionals, >1.3K active users
peoplemaking.games: Gamedev creatives, >650 active users
indiepocalypse.social: For indie creatives of all sorts, artists, game devs, musicians, podcasters, writers, everyone is welcome. >100 active users.
Writers
mastodon.art: For creators of artwork of all types, including but not limited to illustration, design, 3D modelling, gamedev, photography, songwriting, composing, creative writing, performance art, poetry, ceramics, typography, sculpture, fibre arts, and more, >6.8K active users. AI generated art and NFTs are not allowed.
writing.exchange: poets, authors, and every kind of writer, >780 active users
mastodonbooks.net: the book-dedicated space on Mastodon for avid readers, authors, librarians, bookstores, and publishers. >710 active users.
romancelandia.club: writers and readers of romance, >365 active users
indiepocalypse.social: For indie creatives of all sorts, artists, game devs, musicians, podcasters, writers, everyone is welcome. >100 active users.
Fanworks
fandom.ink: fanfic, fan art, fan meta/acafandom, and blorbos of all kinds, >500 active users
blorbo.social: fandom nerds who create fanart, fanfic, fanvids and other transformative works, >600 active users
Musicians
mastodon.art: For creators of artwork of all types, including but not limited to illustration, design, 3D modelling, gamedev, photography, songwriting, composing, creative writing, performance art, poetry, ceramics, typography, sculpture, fibre arts, and more, >6.8K active users. AI generated art and NFTs are not allowed.
musician.social: musicians who create, play, or love all types of music, >500 active users
indiepocalypse.social: For indie creatives of all sorts, artists, game devs, musicians, podcasters, writers, everyone is welcome. >100 active users.
Artisans
mastodon.art: For creators of artwork of all types, including but not limited to illustration, design, 3D modelling, gamedev, photography, songwriting, composing, creative writing, performance art, poetry, ceramics, typography, sculpture, fibre arts, and more, >6.8K active users. AI generated art and NFTs are not allowed.
artisan.chat: creators, crafters, and artists, >400 active users
Being Seen
Now that you have made an account, it is time to connect with your potential audience, fellow creators, in short: your community. This is especially important if you picked a small server because small servers have fewer connections to others and therefore may return fewer results when doing a hashtag search. Following people and people following you creates connections on Mastodon and therefore indirectly widens your audience. Therefore, in the beginning, it is advisable to be generous with your follows. You can always unfollow later if you find you don't like someone's posts.
First Steps
These steps may be fairly obvious but I still think it is a good idea to give some easy to follow steps as guidelines (not actual rules):
Upload a profile picture. Ideally it is the same picture you are using on other social media accounts so people who already know you from elsewhere can easily recognise you. It is a lot less likely that people will follow back accounts without a profile picture, just like on any other social media site. Therefore, best do this before you start following others.
Fill out your bio. Tell us what you do. Mastodon doesn't have a strict character limit like Twitter does so be generous with the info. Or copy your bio from Twitter, that works too. You should add a few relevant hashtags to your profile too, more on that below.
Fill out the extra fields. Unique to Mastodon, it allows you to add links to your website, other socials, or just put whatever you like. I put commission status in the extra fields for example. It's here where you can get verified but that isn't a first step. Here's a guide, though, in case you do want to verify your account first.
Post an introduction. Briefly describe what you do, what kind of people you want to connect with, and add the hashtags #Introduction and #NewHere. Add more hashtags if you want, like your niche or which platform you are leaving. Example: Hi, I'm Aimée and I write mythology #erotica. I'm looking for fellow #writers to share ideas with, #mythology lovers to geek out with, and readers who love a one-handed read. #Introduction #NewHere #TwitterMigration #RIPTwitter #writer #nsfw
Pin it. On Mastodon, you can pin up to five posts to your profile. But starting out, you only need the one, your introduction. Now neither your profile nor your timeline are empty. Time to find your audience!
(Re)Connecting With Your Audience
The best way to find your community on Mastodon is by finding people you already know. There were numerous tools to find the Mastodon accounts of mutuals from Twitter but Twitter has since extremely restricted third party applications. At the time of this writing, the following tools still work:
The resulting lists can be directly uploaded to Mastodon or you can follow those accounts right from the application screen.
Hashtags
Mastodon's search feature only looks for hashtags and user names unless a user has enabled full text search. So it is incredibly important to use hashtags in your posts, similar to how it was in the earlier days of Twitter and still is on Tumblr. I recommend starting out with very broad hashtags like #erotica or #mythology to first find your tribe before getting more specific. Both the erotica and mythology community on Mastodon are still fairly small, so I rarely use narrow hashtags like #bondage or #NorseMythology.
Some tools will recommend hashtags as you type, along with recent usage: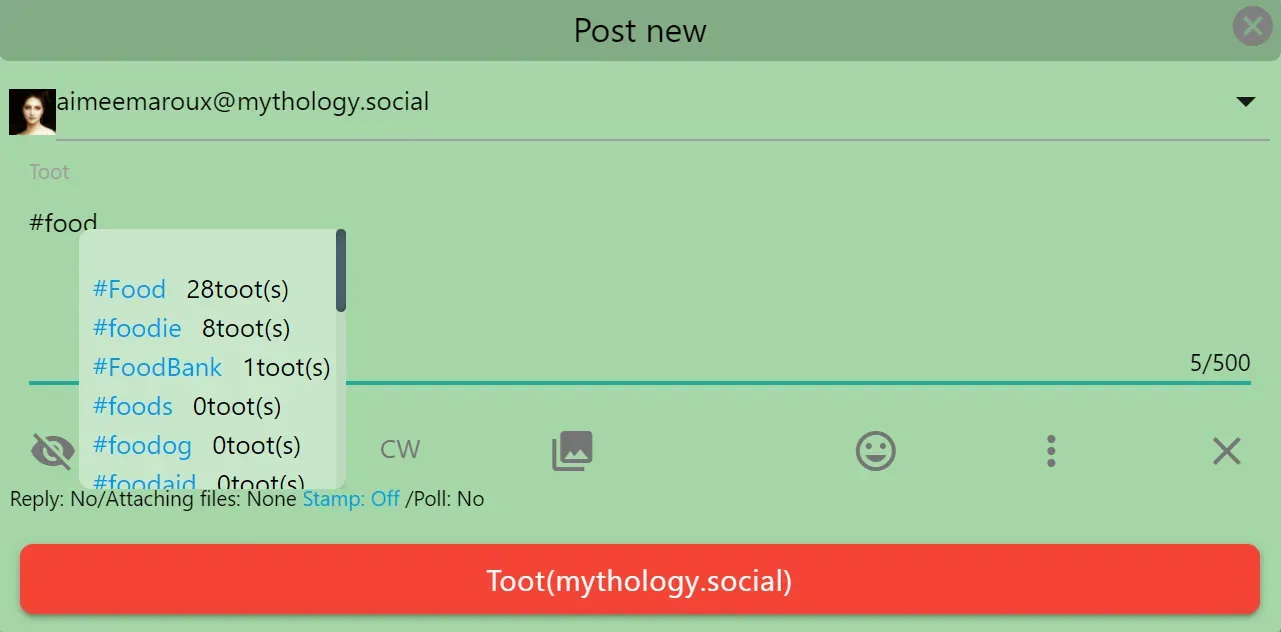 Spend some time finding hashtags relevant to your niche. There is a hashtag index on toot.cat you should check out to get started. Broad hashtags I recommend are:
General
#Introduction and #NewHere if you start (over). It allows others to find new arrivals. A good idea is to tag your introduction post with both of these hashtags.
#FollowFriday for users whose posts or interaction you enjoy, it essentially is the same as it was on Twitter.
Visual Artists
Be sure to tag your artwork #MastoArt and potentially #art and #artist as well, followed by hastags of the method used (#watercolor, #painting), the type of art (#illustration, #photography), and the genre (#furry, #webcomic).
If you want, you can also add hashtags identifying yourself as a #TransArtist, #BlackArtist etc.
NSFW and Adult Content Creators
First, you wanna tag your post #smutstodon #nsfw and #kink (if applicable). Depending on the kind of adult content you create, you may wanna add a combination of: #erotica #nudity #camgirl/#camboy/#gaycam #pinup.
I often see kinky posts without any tags, so our hashtag game can definitely be improved.
Writers
To find writers like yourself, tag your post #WritingCommunity and #WritersOfMastodon. The hashtags #writing and #WritersLife are also popular. There is already a daily hashtag, #WritingWonders, with a question about your story each day. Find the monthly list at #WritingWondersQs. The hashtags #amWriting and #amEditing that I used on Twitter are also used here. Additionally, the hashtags #WIPWednesday and #FeedbackFriday invite other writers to comment on your work.
Musicians
Use the incredibly obvious hashtag #music. Additional hashtags like #musician, #indieMusic, #MusicVideo and #MusicProduction are helpful too to be seen. Narrow it down with genre hashtags like #grunge, #metal, #synthwave etc.
There are several music-related hashtags throughout the week that you can check out to find fellow musicians and listeners. #JukeboxFridayNight and #TuneTuesday are the most popular ones but there are also #MusicMonday, #BandcampFriday, and #NewMusicFriday.
If you want, you can also identify yourself as part of the LGBTQ community by adding the hashtags #LGBTQMusic, #QueerCountry, #QueerMusic, or #TransMusicMonday.
Weekly Hashtags
One of the fun parts of Twitter that also make it easier to discover new people who share your interest were weekly hashtags. On Twitter, I regularly participated in #PhallusThursday, #FannyFriday, #Satyrday, #MythologyMonday, and #AbsWednesday. Popular weekly hashtags on Mastodon are:
#Caturday
#SilentSunday
#Mondog
#MondayMotivation
#MusicMonday
#Tattuesday
#ThickTrunkTuesday
#WIPWednesday
#FollowFriday
#JukeboxFridayNight
For more weekly hashtags, check out this amazing list at toot.cat:
Trending Hashtags
There are a few ways to find trending hashtags. Not all Mastodon servers offer them, but many have an "explore" feature that allows you to see posts and hashtags that are currently trending on your server.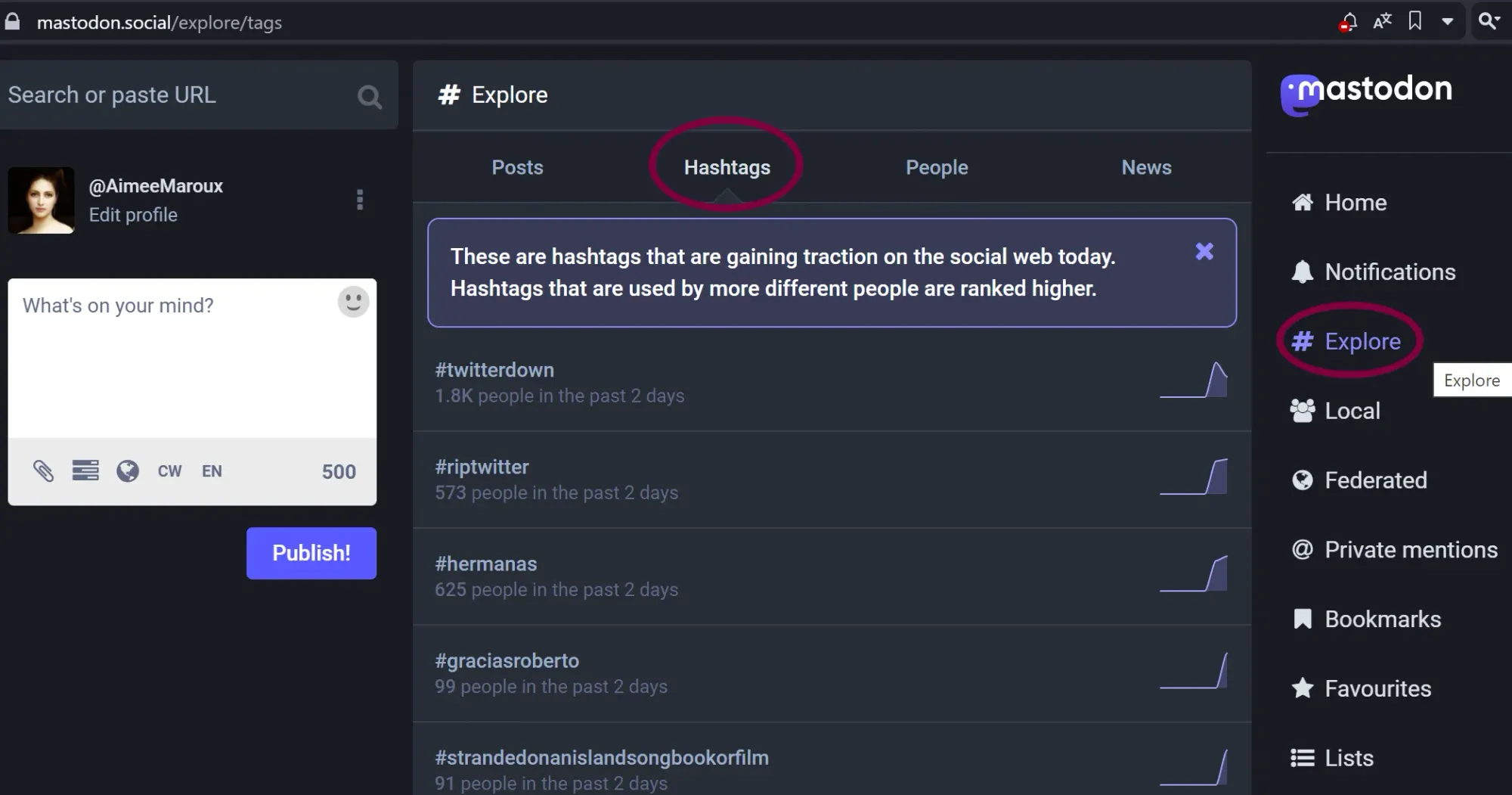 If you are on a small server and want to know what is happening, you can always check out the trending hashtags of large severs by typing server.domain/explore/tags into your browser, i.e. mastodon.social/explore/tags.
But even if it's huge, mastodon.social is still just one server. There is a nifty tool called Feditrends that allows us to see not just the trends of a Mastodon server but across the whole Fediverse, meaning all Mastodon servers plus other platforms like Reddit-alternatives Lemmy and kbin, Instagram-alternative Pixelfed and so on. So if you really want to make use of the reach of trending hashtags, Feditrends is the best way to find them.
Note: Feditrends has currently disabled both the trending posts and trending hashtags feature. I will update the guide once I find out if this is permanent.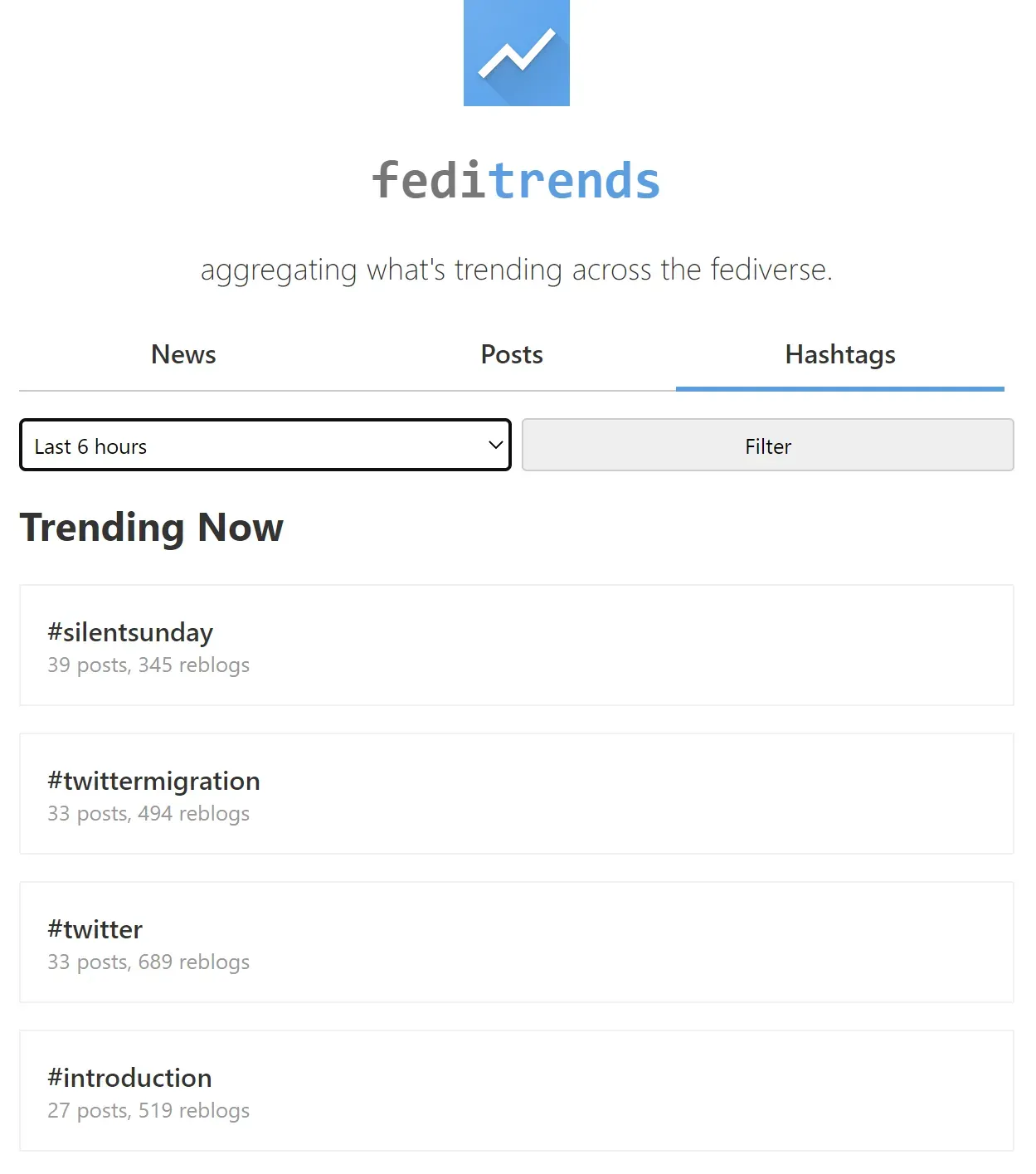 Groups
Groups are an incredibly handy tool to both boost your reach and find like-minded accounts to follow. The way they work is that if you mention a group, everyone following that group will see the post in their feed. Groups are especially handy if you are on a smaller server because unlike with hashtags, it doesn't matter if your server knows the sender tagging the group, you will always see their post and vice versa. You can also start a new group just by mentioning it. But starting out, it's more convenient to use existing groups that already have a bunch of followers. To find out how many followers a group has, you have to look at their profile on the original site. For instance, here you can see that @smutstodon@a.gup.pe has, at the time of this writing, 241 followers and 1310 posts mention the group.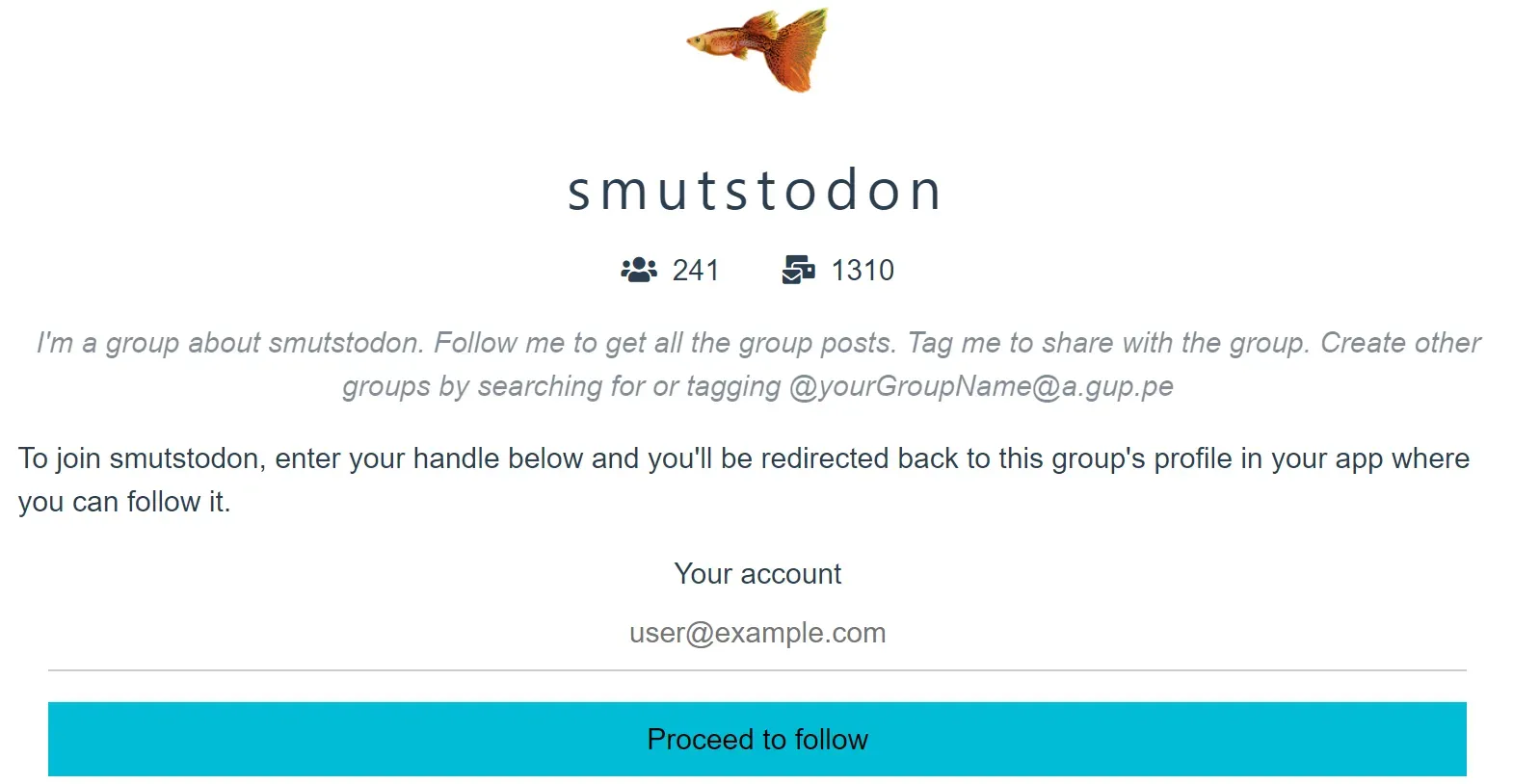 Here are a few useful groups for creators:
Visual Artists
@comics@a.gup.pe
@photography@a.gup.pe
NSFW and Adult Content Creators
@smutstodon@a.gup.pe
@anal@chirp.social
Writers
@bookstodon@a.gup.pe >5000 followers, it's huge!
@writers@a.gup.pe
@writingcommunity@a.gup.pe
@audiobooks@a.gup.pe
LGBTQ Writers
@lgbtqbookstodon@a.gup.pe
@sapphicbooks@a.gup.pe
@lesfic@a.gup.pe
@mmromance@a.gup.pe
@gayromance@a.gup.pe
@transbookstodon@a.gup.pe
Genres
@fantasy@a.gup.pe
@romancelandia@a.gup.pe
@scifi@a.gup.pe
@horrorbooks@a.gup.pe
@poetry@a.gup.pe
Musicians
@classicalmusic@a.gup.pe
@contemporarymusic@a.gup.pe
@composers@a.gup.pe
@hiphop@a.gup.pe
@jazz@a.gup.pe
Artisans
@knitting@a.gup.pe
@fiberarts@a.gup.pe
@crossstitch@a.gup.pe
@sewing@a.gup.pe
Scheduling Toots
If you, like me, used Tweetdeck to schedule your posts, you will find that Mastodon doesn't have a "schedule" feature in its desktop web version. However, there are several ways to schedule posts.
Use a mobile app. I'm using the app Tusky and scheduling posts is integrated in the app. The Fedilab app can schedule posts as well.
Use a web app. The Fedilab scheduling app runs in your browser, no installation needed, and even shows you already scheduled posts. Just log in with your Mastodon account. Clients like Buffer also started to include Mastodon.
Use a desktop app. This is what I'm usually doing because I do most of my work on a desktop PC. I may schedule something on mobile if I took a photo with my phone and can't be arsed to send it to my desktop but for everything else I use TheDesk, a Japanese desktop client that looks very much like Tweetdeck used to look. It has a few glitches here and there but it's free and it can do everything I need. The only thing I haven't figured out is if there is a way to list my scheduled posts.
Image Descriptions
This is part of the Mastodon / Fediverse etiquette: add image descriptions for blind and otherwise visually impaired people. Many people don't boost posts that don't have an image description so it is not only the right thing to do, it also increases your reach. 🙂
I personally found it incredibly easy to go from never adding any image descriptions on Twitter to always adding image descriptions on Mastodon. It doesn't have to be immensely detailed. "Drawing of a tree" is enough. But it can be fun to write more in depth descriptions too, especially for the ancient artwork that I often post. Just help out the people who need them, OK?
Curating Your Feed
You have gone out there, found new friends and your feed is packed. But it's kind of a big melting pot. How can you make this more managable without an algorithm that shows you the things it calculated you should see? There are a few possibilities:
Unfollow
If you realise that it is one person or a few of the same people bombarding your feed with topics that don't interest you, the simplest way is to unfollow. But if you don't want to unfollow, here are a few alternatives:
Mute
You can mute the person either for a given period if, for example, the football championship doesn't interest you but it's only going on for a limited time. Alternatively you can mute words and hashtags that you don't want to find in your feed. Other than for search, full text works for muting words, not just hashtags, because the use of hashtags is not 100% reliable.
Hide Boosts
If it's only a person's boosts that don't interest you but you are still eager to see their posts, you can just hide their boosts. This way, you will only see their original posts show up in your home feed.
Block & Report
If a person comes at you with harassment or hate speech, it's best to outright block them and report them to your server admin. But they don't have to be abusive or rude. Even if you just don't want to deal with them it's fine to block another user. You don't owe anyone an explanation. Just don't report them if there is no reason to do so.
Lists
If you have vastly different interests, it can be helpful to sort them into lists. They essentially work in the same way they do on Twitter: you add people to a list, for example "kink" and then you can look at a feed of kinky posts whenever you feel like it. Unlike on Twitter, you cannot add people to a list without following them. So the kinky posts still end up in your home feed.
Sensitive Content
But even if kinky images end up in your home feed, it's possible to hide them. Posts with a content warning or media marked as sensitive content can be hidden by default so the posts are hidden behind the content warning and/or the images are blurred. I have set sensitive media to always be visible on my desktop but as blurred on my mobile so I can more easily decide what to see while out in public.
Bookmarks
If you see something fun or thought-provoking, or just something you want to interact with later, always bookmark. You will never find it again. Unfortunately, the limited search function on Mastodon makes it even harder to find a post again and I felt it was a pain even on Twitter. So be quick to bookmark something before it's gone! You can always look through your bookmarks and remove those that are not interesting any more. It takes less time than searching for a lost post, trust me.
Downsides to Mastodon
While I believe that Mastodon is the only platform that makes sense for small and especially adult content creators in the long run, I don't want to downplay the challenges that come with the platform.
Discoverability
This is by far the most blatant downside for creators and small businesses: it is quite difficult for other people to find us. There is now full text search but it is opt-in, so it's still hard to find older posts but it is much easier to be found by others. Considering that the search feature on Tumblr and BlueSky is pretty shit, I don't feel like there is much of a difference any more.
At the time of this writing there is no possibility to see every single post using a certain hashtag which makes it so important to join a mid-sized or large server and even then you won't see all the posts, despite the use of a hashtag makes it clear that the post is supposed to be found. Also, lots of communities are still in the process of being built, like our erotica community. That is inconvenient but also a chance. Let's build something amazing!
Lack of Features
This ties in with the discoverability problem but Mastodon doesn't have a "quote tweet" feature. This was an intentional decision to avoid harassment, but it's a feature that might actually be added in the future. I personally would love it because I used quote tweets on Twitter a lot to say "hey look at this artist" or "check out this person's interesting tweets". If it is added, it should be opt-in but I would be very happy about it.
Scheduling is another feature that would be nice to have (see above) but it is very likely to be added in the future and there are already fairly easy ways to do it without the web version of Mastodon.
Full text search across the whole Fediverse (not just Mastodon but platforms like Instagram-alternative Pixelfed, Reddit-alternatives Lemmy and kbin, Youtube-alternative Peertube etc.) would be amazing but I'd settle for full hashtag search as well. There is resistance against any kind of searchability because Mastodon was built to be safe first. Which is a good thing. But I wish we could have both, a safe and ethical way to find like-minded folks.
Edit: Full text search was implemented in version 4.2 of Mastodon in August 2023.
Gatekeeping
There are parts of "Fedi culture" or "Mastodon culture" that I really love, like the consideration of blind people and the focus on creating a safe environment where it is easy to block harassers. My own experience on Mastodon has been very positive, one homophobic arsehole who slipped through the cracks and some baffling mansplaining aside. But I have friends who came with me from Twitter and were met with hostility for i.e. labelling themselves as a "Twitter refugee" or posting threads. I had also seen some vocal people in the beginning who were against promoting your work. If you have a bad experience like that, don't let it discourage you! Block or mute the person who is being an arse or consider moving to a different server. No server is quite like the other, so you may find a very different culture. But also keep in mind that you are not coming to a new startup platform like Bluesky. People have been on Mastodon since 2016. So while I feel that it is valid to point out flaws in order to mitigate them, it is simply rude to complain that the platform isn't exactly like Twitter or like what you are used to. On the other hand it is extremely rude to be a condescening arsehole to newbies and refusal to acknowledge the existing problems is not helpful. Listening with an open mind will help both sides: you will understand why some things are the way they are on Mastodon and hopefully the old residents will understand that it is worth considering new ideas as well.
🐘🐘🐘
This is a living, loving guide. If you notice anything I have forgotten or if you have a better piece of advice, please let me know via Mastodon or leave a comment down below! I am an erotica writer, not a visual artist or musician, so my own experience is limited to my own niche. But I want to give basic advice to all creators because in essence, it is the same for all of us. We're all in this together, let's lift each other up by helping each other out! 💕
Sources
Mastodon mobile apps (I hear the official app is not very good)
Guides
How to become a successful artist on Mastodon by Mastodon creator Eugen Rochko
Making Self-Promo Work on the Fediverse by Jess Mahler
Amazing Tips for Easily Getting Off on Mastodon Social, A Beginners Guide for Kinky Smut Creators and Viewers: Part 1 and Part 2 by Quinn Blueheart
Verification on Mastodon, opensource.com
How to use groups on Mastodon and the Fediverse, fedi.tips
Tools
List of weekly hashtags, toot.cat